School
Bosmere School is a community junior school with 360 children on roll. We take children from the age of 7-11 (Years 3-6).
The school consists of a modern well equipped building, although evidence from Hampshire County Council Access Officer states that access for people with disabilities is challenging. The class bases can be used flexibly by staff and children and incorporate a carpeted classroom, a shared tiled 'wet' area with workbenches, and a tutorial room in which we store the majority of our teaching resources for the year groups.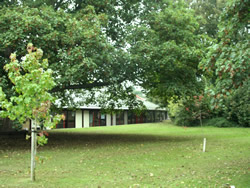 An exception to this is Year 3, which is a self-contained, open plan area with a shared resource centre and its own integral toilet block.
The Bosmere School Library, located in the centre of the building, offers a modern and constantly updated range of fiction and non-fiction books. The Library is overseen by the library manager, Mrs Dunn, assisted by keen Pupil Librarians. With over 7000 books in our Library, pupils are encouraged to borrow up to 4 books at any time to support their reading and projects in class. Books are borrowed and returned by the pupils using a hand-held scanner linked to 'Microlibrarian' computer software. The Bosmere School Library is supported by the Hampshire School Library Service.
The computer suite, built specifically for ICT teaching, now comprises 30 networked computers. Extra computers are available throughout the school giving a ratio of 1 computer to 7 children. In addition, each classroom is equipped with an interactive whiteboard.
Other areas of the school apart from class bases include: a recently refurbished room for food technology (paid for from funds raised by Bosmere PTA), a specially ventillated kiln room, a well equipped specialist music and drama room, changing rooms, and a well equipped school hall, used for P.E., gymnastics, school assemblies and school lunches.
Outside, the school has generous grounds which have multiple uses. Children have access, at playtimes, to a hard play area, a large field and an adventure playground. Additionally we have an area dedicated to gardening, a wooded copse, complete with seating for a class, a long jump pit and a range of quiet seating areas. A number of mature trees offer shade during the summer, allowing the grounds to become teaching areas when the weather allows.
Disabled Visitors - It is recommended that disabled visitors to the school telephone the office prior to arrival to arrange car parking and/or assistance for entering the school. There are relatively steep ramps and steps at the school and therefore, depending on who you need to see and your individual requirements, arrangements may need to be made to assist you.