Curriculum
Bosmere School Curriculum
At Bosmere Junior School we aim to deliver a broad and balanced curriculum which, in line with the new National Curriculum, promotes the Spiritual, Moral, Social and Cultural (SMSC) development of pupils at the school and prepares them for the opportunities, responsibilities and experiences of life.
Through our curriculum, we seek to prepare Bosmere children for success in an ever-changing world by igniting a lifelong love of learning and nurturing a community of responsible, informed and caring citizens.
We aim to offer children, through a wide range of extracurricular activities, many and varied opportunities to explore their natural and unique abilities.
Our curriculum is vital, rich in creativity, grounded in the learning process, and dedicated to our children's physical and emotional wellbeing.
Click on the year group to open links to our school curriculum. Parents can obtain additional information about our curriculum through discussion with class teachers.
In June 2021, we interviewed pupils across the school to find out what they think about Geography at Bosmere and used their responses to create this Word Art: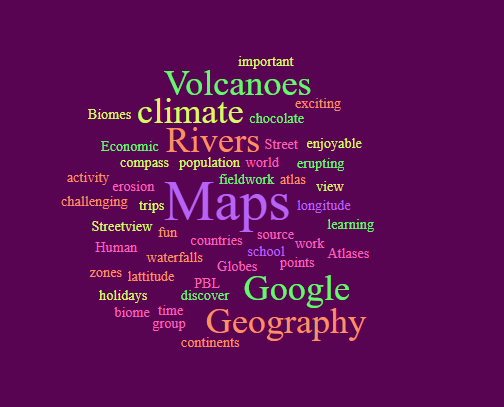 Skills Progressions
Click on the links below to download our skills progression documents for each subject. These show the expectations for each year group.