Summer Term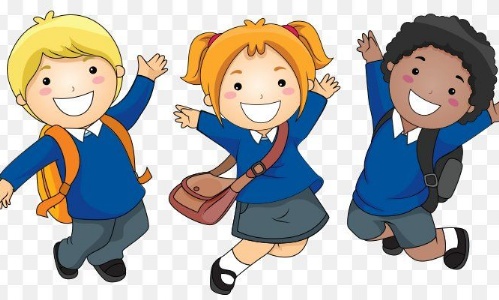 Important Reminders
Dear Parents
I have a few key reminders and requests ready for the Summer Term and would therefore be really grateful if you would take the time to read these carefully.
UNIFORM
As you know, we have been very lenient with uniform expectations, understanding the difficulties in obtaining new clothing when children have grown. We are, however, extremely proud of how smart Bosmere children look in their uniform and will be once again insisting on full compliance with the uniform expectations on return to school after Easter. As a reminder, our expectations are:
Uniform Days
White shirt with a collar
School tie*
School sweatshirt or cardigan*
Grey or navy blue skirt / pinafore dress / trousers / shorts (not black)
Grey, navy blue or white socks
Black shoes - plain black trainer style acceptable (No white / coloured soles or logos. No boots. No open toe sandals.)
Blue and white checked dress (optional summer term only)
PE Days
House colour PE T-shirt*
Royal blue shorts*
Navy blue, black or grey tracksuit or jogging bottoms (NB from September this will change to navy blue jogging bottoms only, available from our uniform shop)
Navy blue, black or grey sweatshirt with no hood (NB from September this will change to house colour sweatshirt, available from our uniform shop)
Trainers
(NB: PE days remain the same:
Y3 – Tuesday / Wednesday
Y4 – Tuesday / Wednesday
Y5 – Thursday / Friday
Y6 – Monday / Thursday)
Additional rules
No jewellery, except for a small pair of stud earrings (removed or not worn on a PE day) and a watch
No extreme hair styles (i.e. dyed or bleached or with patterns shaved in)
Hair accessories should be discreet or uniform colour (i.e. no large flowers / bows)
No make-up
All items marked * are available from our school uniform shop which can be accessed by contacting the school office by telephone or emailing adminoffice@bosmere.hants.sch.uk.
(I will be in contact later on in the Summer Term about purchasing our new PE kits ready for the start of the Autumn Term.)
Please do contact me if you have any questions or difficulties with any aspect of our school uniform. We also have a large range of second hand uniform available, again by contacting the office.
Thank you for your support in ensuring we maintain our high standards with school uniform. We really do believe that smart attitudes with uniform lead to smart attitudes with learning.
TRAFFIC ISSUES ON SOUTH STREET
Once again we have been seeing considerable traffic build-up caused by adults stopping and parking illegally on the roundabout at the end of South Street adjacent to the car park, especially at the end of the day. This creates several health and safety issues including:
Increased risk to pedestrians trying to cross safely to Juniper Square or proceed further up South Street
Heavy traffic leading to vehicles being unable to move up or down the street and local residents trapped on their driveways for extended periods of time
Vehicles parking on the pavement which prevents pedestrians from walking safely around the roundabout
Emergency vehicles potentially unable to access the school building to respond to an emergency (e.g. medical issue or fire)
Motorists with 'Blue Badges' for a disability who can park on the double yellow lines but are unable to because the space is taken up by drivers parking illegally
The school has been informed about several 'near-misses' where pedestrians have come close to being hit by vehicles because it is so congested at the end of the day and it is unsafe to cross South Street / Juniper Square. If you are one of the parents parking illegally you are contributing to this problem and may be partly responsible if someone is ever injured. Please do your part to keep everyone safe.
We appreciate that the location of the school presents challenges for collecting children who live beyond a 'walkable' distance. We would urge you to use our Park and Stride approach at one of the following locations:
Bulbeck Road (West Street) Car Park
Tesco Car Park
Prince George's Street Car Park,
East Pallant Car Park,
Town End House Car Park (HBC spaces only – not LiveLink Private car park space - limited availability)
The above car parks are available FREE to Fairfield and Bosmere parents/carers between the times:
8.20am to 9.05am (for morning school run)
2.50pm to 4pm (for afternoon collection).
This is TERM TIME ONLY and does not apply during school holidays and school closure days. You do not need to display anything. Please note the Meridian Centre Car Park is NOT included in the Park and Stride scheme.
SOCIAL MEDIA
Staff have been dealing with an increase in behavioural / social issues arising from inappropriate messaging between children on social media (particularly in the upper school). These are typically unkind messages that cause conflict between pupils but in some cases there are abusive messages that can cause genuine distress for victims. We are seeing these messages emerge on applications like WhatsApp, SnapChat, Instagram etc. These apps are intended for use by children who are 13 and older. If you are choosing to allow your child to access these applications, then as a parent you should monitor that they are acting responsibly. It is completely reasonable to monitor these apps, to see how children use their devices and to perform spot-checks on the sort of messages they are exchanging with other people online. This is all part of keeping our children safe online and ensuring that they grow up knowing how to access the digital world responsibly.
Kind regards
Kathryn Robinson
Headteacher