Southern Electrical Recycling - Eco project for November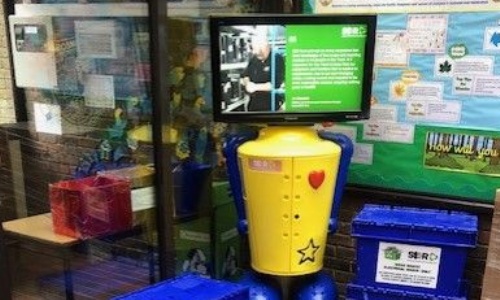 Collecting small electrical items to be recycled
Southern Electrical Recycling - Eco project for November
Dear Parents
In assembly, we were joined by Josh and Bobby from Southern Electrical Recycling with their electronic WEEE man to promote our Eco project for November to collect small, electrical devices which are no longer needed/don't work so that they can be recycled.
The children were excited to see the brightly coloured WEEE man (himself made out of recycled materials) who is now positioned by the school front door and has an information display screen explaining what the scheme is all about. You can find out more about SER on their website (https://southernelectricalrecycling.co.uk/
The WEEE man will remain in Bosmere for the next 2 weeks before he moves on to another school. There are 3 collection boxes next to him which will be collected by SER at the end of November (or whenever they are filled).
We are encouraging everyone to bring in any electrical devices which are unwanted/no longer work and put them in the collection boxes.
What do SER want us to collect?
mobile phones

hair dryers or straighteners

tablets

irons

vapes
Basically anything small enough to go in the box, which uses electrical power in the form of a battery or via a plug socket.
NB Please leave any batteries inside the device. We do
not
want to collect
loose
batteries (because of the risk of sparking if terminals contact one another; the safest place for the battery is to remain inside the device.)
What does SER do with the collected devices?
Each device will be dismantled then crushed by SER and its component parts will be recycled. These include gold, copper, plastics, glass, and various precious metals. (The children were amazed to see a lump of 24 carat gold when it was passed round in assembly - it had been extracted from a collection of electronic circuit boards.)
What this will achieve:
Reduces landfill

Accesses useful materials which can be extracted from the device and then recycled

Reduces our need to acquire materials which are sourced from across the world, so reducing the carbon footprint of these imports
What about devices which may carry confidential data?
SER uses processes which adhere to strict security measures to ensure any data-bearing devices are dealt with appropriately, giving us peace of mind knowing our data is safe. So email addresses, passwords, etc. will not be accessible and will be destroyed. SER explained these processes to the children in assembly as: "the device is put in a huge microwave which electronically destroys all the data, then the device is crushed and melted down to extract all the material to be recycled."
What about devices which are unwanted but still work?
SER will accept any electrical device and, if it still works, they will donate it to charity. Please put a note on any devices which are still working so SER can donate rather than recycle them.
Looking forward to seeing the blue boxes filling up!
Many thanks for your support.
Bosmere's Eco Co-ordinator