Guide Dogs Fundraising Event (5th - 9th June 2023)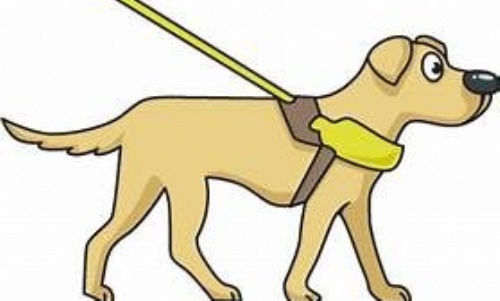 All the details and the sponsor form
Guide Dogs Fundraising Event (5th - 9th June 2023)
Dear Parents
Guide Dogs Fundraising Event
Bosmere School is very proud of its links with the Guide Dogs charity. Every few years (since 1972!) staff and children have participated in a fundraising activity to raise enough money to fully train a puppy as a guide dog. By this means we have, over the years, raised enough money to fully train twenty nine guide dogs and twelve puppies! The puppies and their trainers come into school assemblies on a regular basis so that we can keep up to date with how their training is going and the children really get to see where the money they have raised has gone.
The School Council have elected to once again support this worthy charity as their chosen charity for this year and today we had our first visit in assembly from a Guide Dog and his owner, Ian, to launch our fundraising appeal.
The School Council have decided that they are going to run a whole week of fundraising activities for the Guide Dogs charity during the week beginning 5th June 2023. They are hoping to raise £5,000 altogether in order to train another dog, so it is not going to be an easy task! Here are the activities which will be taking place:
Sponsored Sensory Trail (see timetable below for date for each class)
The main fundraising activity for the week will be a Sponsored Sensory Trail event in school – this was a great success when we ran it a few years ago.
The Sponsored Sensory Trail will take place in our small copse in the school grounds throughout the week. The idea is that the children will get to experience a little of what life is like as a blind person. They will be blindfolded, then guided by a partner round a trail, which will include various obstacles and challenges for them to complete on the way. This also fits in well with our HEARTS value of Safety, which will be a focus next half term.
The days for each class to complete the trail are as follows:
Monday 5th June – 5B / 5S
Tuesday 6th June – 3A / 3B / 4S
Wednesday 7th June – 4DW / 5K
Thursday 8th June – 6B / 6C / 6R
Friday 9th June – 4R / 3D
Your child will need to come to school on their trail day wearing clothes which they do not mind getting muddy – we will be completing the trail whatever the weather! They will also need to bring in a change of clothes to change into after completing the trail in case they are really wet and muddy! The change of clothes can also be own home clothes; school uniform is not needed.
The fundraising element will come from children collecting sponsors in order to complete the trail. A sponsor form is attached to this letter and a paper copy will be sent home with your child. Children will also bring home a certificate once they have successfully completed the Sensory Trail in school. Sponsor money can then be collected and brought into school following this. There will be prizes for the most sponsor money collected in each year group and across the school. The deadline for bringing in sponsor money will be Friday 16th June.
Games and competitions on the playground (5th – 9th June)
Throughout the week, the School Council and House Captains will be organising lots of additional 'Guide Dog' themed fundraising activities in the playground. Children will be able to take part in each of these activities at break times on the playground, each activity costing 30p - 50p to enter, so children will need to bring some change into school each day to pay to take part:
Guess the name of the cuddly dog
Guess the number of dog treats in the jar
Guess the animals from close up photos
Pin the tail on the dog
Competitions (available to enter up to 9th June)
We have 2 competitions running for children to enter:
Helpful Dog Photo Competition
Take a photo of your dog (or one you have borrowed) being helpful. These can be funny staged pictures or real activities. It can be any kind of help such as picking up dirty washing from your bedroom floor or helping with homework!
Draw or take a photograph of a 'Super Dog' and explain why it is amazing (real or imaginary). Does your Super Dog have special powers? How has Super Dog helped / saved the world? Does Super Dog have a secret identity?
There will be a £1 entry fee to enter each of the competitions. The competitions will be judged by Mrs Barnard and the School Council; winners will be announced after our fundraising week. Entries need to be handed in to the school office, along with the £1 entry fee.
Cake Sale / Dress Up as a Dog (Friday 9th June)
And finally…… on Friday 9th June, the School Council would like to run a cake sale in school! We would be very grateful if parents could send in cake donations on Friday 9th June. Cakes will then be sold in year groups, priced between 20p and 50p. Your child will also need to bring in some money to buy the goodies of their choice! Once again, change is much appreciated.
The School Council were also keen to have the opportunity to dress up as part of this week, so would also like to encourage dressing up as dogs for school on Friday 9th June. This is not compulsory and there is no fee for taking part, but it would be great to see some creative costumes! There will be prizes available for this too. (Children in classes taking part in the sensory trail on this day can come dressed as dogs then bring clothes to change into for the trail.
Other Activities
There will be a whole host of other activities taking place during the week, including a visit for Year 4 from a blind artist, Clark Reynolds, who incorporates Braille into his art work, some trust and safety games and plenty more!
We hope you will support your children in making this fundraising event a great success. Reminders will come out about each of the activities nearer to the event. For now, the main jobs are to get collecting sponsors and think about those competitions!
We're looking forward to a lot of fun!
Yours sincerely,
Mrs K Robinson Mrs L Barnard Mrs V Morgan
Headteacher School Council Leader GDBA Leader