Reading Bookmarks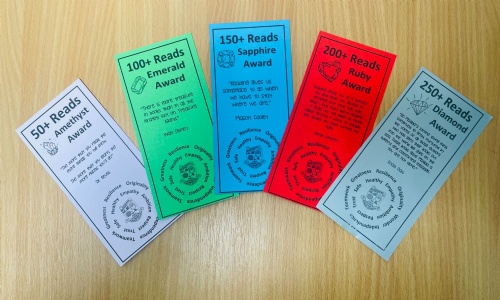 New scheme to celebrate reading milestones
Reading Bookmarks
Here at Bosmere Junior School we see reading as a 'gateway skill' that makes it much easier to learn other subjects in school. Reading fiction is a wonderful way of developing a child's imagination and reading non-fiction means a child can learn about anything that has captured their interest.
As you know we ask that every child reads at least five times a week. The majority of our families are very supportive of this and some hear their children even read more often. Each week our staff look at the children's reading logs and record how many times the child has read. Please remember to log your children's reading in their diary and sign it each week. If the log isn't signed by an adult the children's reading for that week will not be added to their total.
As a small acknowledgment of our frequent readers, we have introduced Bosmere Bookmarks to celebrate reading milestones and to help ensure children are proud of their hard work (please see the attached image). The children get a new bookmark when they read:
50 times in the school year – Amethyst Award
100 times in the school year – Emerald Award
150 times in the school year – Sapphire Award
200 times in the school year – Ruby Award
250 times in the school year – Diamond Award
Any child who reaches Diamond Award can also share a book and read with any adult in school they choose.
Thank you for your ongoing support - it makes a huge difference in children's learning when adults take the time to hear their reading and discuss books.