MESSAGE FROM MRS ROBINSON
It doesn't seem possible that we are into our second half term already! I do hope you all enjoyed some family time over the half term holiday. The children all deserve to be so proud of the positivity and determination they have shown as they have got straight back into their learning on their return to school. I have been visiting classes awarding stickers for effort with presentation and, as always, have been so impressed with what I have seen.
STAFFING UPDATE
We were extremely sad to lose Mr Brown our Site Manager last month. He took up a Site Manager position closer to where he lives. We are currently interviewing for this position, so hope to have a new Site Manager before too long. In the meantime, our cleaning team of Miss Emery, Miss Faithfull and Miss Gregory have all stepped up to cover the role and are doing a fantastic job, particularly Miss Emery and the never ending task of clearing the leaves!
PARENT SURVEY
Those parents who were with us last academic year will remember that the Governors sent out a Parent Survey in the Summer Term. We have already shared the results of that survey with parents – full details are on our school website under the parent tab if you missed this. Suffice to say, the overwhelming majority of parents are very happy with Bosmere and would recommend the school to others. Any comments received as part of the survey which included further suggestions for improvement have now been discussed by the Governors and the Senior Leadership Team. The following actions have been identified:
Share with parents the curriculum overviews each term through email to provide further information about what their children will be learning
Further develop opportunities for parents to share in their child's learning in school through, for example, workshop events and the sharing of class learning
Ensure full engagement of parents in parent consultation meetings with teachers to discuss their child's learning
Thank you once again to all parents for your ongoing support in making Bosmere the wonderful school it is.
PARENT CONSULTATION MEETINGS
We are really looking forward to meeting with parents for our parent consultation meetings this half term. A letter was sent out about these earlier this week and appointment booking is now open. These meetings are extremely important for ensuring we can work together in partnership to ensure your child is happy and successful in school so please make sure you book an appointment. There is a choice of face-to-face and virtual appointments. We ask that parents attending school for face-to-face appointments wear a face covering. Please telephone the school office if you are having any difficulty with booking an appointment.
Your child will be bringing home their Milestone 1 assessment report on Wednesday next week, which will form the basis of the discussion at the meeting, along with a collaborative mentoring sheet they have completed.
We are really looking forward to meeting with parents.
BREAK TIME SNACKS
Please could I remind parents that we only allow fruit and vegetable snacks to be brought in for eating at break times. We were allowing an increased range of snacks to be brought in last year, but this was because of the longer mornings for some year groups due to staggered lunch times. Now we are back to operating as a whole school, we are only permitting fruit and vegetables once more. Thank you for your support with this.
ODD SOCKS DAY
We will be celebrating Odd Socks Day on Monday 15th November. This date marks the start of anti-bullying week. On Odd Socks Day, we would like the children to come to school in SCHOOL UNIFORM but wearing a pair of odd socks - the brighter and bolder the better! This is an awareness raiser, not a fundraiser, with the key aim to celebrate the fact we are all different!
CHILDREN IN NEED
Friday 19th November is Children in Need Day. The children are always so enthusiastic about having some fun taking part in this National fundraising event, so if they would like to, they are allowed to attend school wearing something spotty. We will be collecting donations of £1 for taking part. Y5 children need to be aware that they will still be swimming or doing PE in the afternoon, so their outfits need to be suitable for this!
HARVEST THANK YOU
We were overwhelmed by the generosity of parents in sending in contributions for our Harvest Table this year. All the food was delivered to the Beacon Church Foodbank in Havant. They sent us a lovely message thanking us for our gifts. It was also wonderful to see so many parents join us for the assemblies. It was fantastic to be able to share this event together once more.
REVERSE ADVENT CALENDAR
During the first week of December, we will be collecting for a 'Reverse Advent Calendar' (which was very successful last year). Each year group will be trying to fill a box with donated items, which this year will be going to the Winter Streets Project, a charity which produces survival kits for people living on the streets in the winter. We are looking to collect unused / unopened:
Deodorant
Toothbrushes
Toothpaste
Lip balm
Wet wipes
Hand sanitiser
Shampoo
Shower gel
Cereal bars
Chocolate
Combs
Thermal socks / hats / gloves
Moisturiser
Cotton buds
We look forward to filling our boxes and thank you in advance for your continued support.
BOSMERE'S ONLINE BOOK FAIR IS UP AND RUNNING
Here's your chance to order some excellent Christmas presents from Scholastic Books and support Bosmere at the same time.
Go to https://schools.scholastic.co.uk/bosmere-junior/digital-book-club to browse hundreds of fantastic children's books and place your order online.
You can pay securely by card.
Books are delivered free of charge all together to school and will be delivered to your child's classroom.
For every £1 you spend, Bosmere receives 20p towards new books for the school library.
Please place your order online by Friday December 3rd 2021.
CHRISTMAS EVENTS
Plans are already underway for all the Christmas events this half term! Please also look out for separate emails about these events with further details.
Carol Service
Our Carol Services will be taking place in St Faith's Church on Tuesday 7th December. The service for children in Year 3 and Year 4 will start at 1pm and the service for children in Year 5 and Year 6 will start at 2pm. We are very much looking forward to welcoming parents to join us for this wonderful occasion. Please note that all children will be returning to school following the Carol Service for normal collection arrangements.
Year Group Performances
The children will still be putting on performances in each year group linked to their curriculum work. Look out for an email from your child's year group providing dates and times.
Christmas Dinner
Our school Christmas Dinner will take place on Thursday 16th December. You will need to pre-order a Christmas Dinner for your child. Please look out for the email about this, which will be coming out shortly. Orders will be made through ParentMail.
Christmas Jumper Day
The last day of the Autumn Term, Friday 17th December, will be a non-uniform day and an opportunity for children to dress up in their Christmas jumpers. As previously, this will be a PTA fundraising day and we ask that children bring in a £1 donation for taking part. (NB Because of this, we will NOT be wearing Christmas jumpers on National Christmas Jumper Day, Friday 10th December.)
CHRISTMAS FUNDRAISING
Christmas Cards
Thank you to those parents who have ordered copies of their child's Christmas Card Design. The cut-off date for ordering has now passed, so we will unfortunately not be able to accept any more orders. We will send the cards home with your child as soon as they arrive in school.
Secrets Shops
I am pleased to announce that, following the success of the Secrets Shops last year, where we asked for donations in order to stock a 'shop' where children could buy presents for family members, we will be repeating this again this year. Please look out for an email from your child's year group giving you more information about how this will be running. All the proceeds from this will go to the school's PTA fund.
Christmas Raffle
We will also be holding our annual Christmas Raffle, again to raise money for our PTA funds. Look out for the raffle tickets which will be sent home with your child for you to purchase The first prize in the draw will be £100.
YEAR 3 NEWS
Year 3 thoroughly enjoyed their visit with Caroline from the Lifebus in October. It was a fantastic, interactive session that linked perfectly with our work on the human body in science. Hopefully your child came home and shared some fascinating facts with you! The session also focussed on friendships and healthy lifestyles, topics we are covering in class. We have seen some of the children using the strategies they have been taught to solve minor friendship issues independently and we are really proud of them for doing this. Year 3 loved meeting Harold the Giraffe - we are sure he felt very loved with all the attention he received!
We also enjoyed a trip to St Faith's Church, where Canon Tom brought our RE topic on 'belonging' to life. While we were there, we had a wonderful opportunity to practise our Harvest Song. It was lovely to see so many parents at our Harvest Assembly and we hope you enjoyed hearing our song as much as we enjoyed learning it.
We are swiftly moving towards Christmas and Year 3 preparations have begun. More festive details will follow soon.
We look forward to seeing you all soon at our upcoming parent consultation meetings.
YEAR 4 NEWS
The Year 4 team continue to be amazed by the quality and quantity of homework tasks that have been submitted this term. It looks like a lot of you have been very involved and had lots of fun, which is great to see and hear about.
We have seen a big increase in children accessing the My Maths homework tasks and TTRockstars. Any extra practice with times tables is so valuable and is really helping the children to progress in maths. At the end of Year 4, all children will undertake a national times tables test in timed conditions – so the pressure is on to practise, practise, practise!
We look forward to meeting you all properly in our forthcoming parent consultations. We do encourage the children to come along with you to share their work and, as well as this helping pupils to take responsibility for their learning and social development, it is just lovely for them to be so proud of what they have achieved already this academic year.
Please can we remind you all that now the weather has turned autumnally unpredictable, every child must have a coat in school each day, as they will be going out on the playground unless it is pouring with rain.
YEAR 5 NEWS
What an exciting half term we have had in Year 5. We have been learning all about Space through project-based learning. We even created our own Space Museum. Year 5 teachers were very impressed with how well the children organised their projects and worked together to meet deadlines. We would like to thank all the parents and grandparents who supported us in our learning. The children and teachers were thrilled that so many of you were able to come and support us and visit our Space Museum. It was a lot of fun. The children worked incredibly hard and we had great feedback saying how confident the children were in talking about their projects. Well done Year 5!
Year 5 also had a visit from Open Box Theatre. The children had a great introduction to our topic on the Mayans in a fun and interactive way. The children will be using the skills and information they learned in their Magic of the Mayans extravaganza. Details to follow. The children are all working very hard and embracing Year 5!
YEAR 6 NEWS
Year 6 hosted a 'Drop, Stop and SATs' afternoon for parents. Parents had a go at SATs questions and it was then a chance for their children to be the teacher. We had a great uptake for this popular event. Brain food was provided to assist with working out the tricky questions!
Year 6 are also busy preparing for their Charles Dickens performance towards the end of this term. More information to follow on this soon!
ECO COMMITTEE
Oh my goodness what a month we have had! The Eco committee have met every week on Wednesday for a working lunch and have worked through our Environmental Review to see what we are already doing in school and how we can make Bosmere even better. We have come up with an Action Plan and are going to focus on the three areas: Healthy Living, Waste and Energy. If you are interested in finding out more, the minutes of each meeting are uploaded onto our website every week, as are any photos and other documents we are working on in line with the Eco-schools application process.
We have already co-opted: eco-ambassadors to work on Healthy Living, our physical, mental and nutritional wellbeing; eco-rangers monitoring energy use in the school; and eco-monitors who are responsible for our recycling both in the classroom and around school.
We are going to create recycling points for crisp packets, dental care products, batteries and pens. These will be positioned in the entrance of the school for anyone to use.
The highlight of this month has been the wonderful opportunity to welcome BBC Radio Solent into school for our live interview and Question and Answer session with Chris Packham. Everyone really enjoyed the experience, albeit a very early start! If you would like to listen in, the link is below, you will need to scroll on to 2:25. We were particularly proud of Jaxon, Gabi, Harvey and Delilah who had to answer questions.
MEET THE STAFF – Miss Dawes
What role: Year 3 teacher
Where: 3D
When: After completing my degree in Early Childhood Studies, I then went on to do my Teacher Training with Fareham and Gosport SCITT. It proved very interesting during a pandemic, but luckily I got to spend every day at school! I joined Bosmere in September 2021 as a Year 3 teacher.
What is it like working at Bosmere: I have loved every moment since starting in September. Bosmere's ethos closely aligns with my own so I knew this was the school for me! The staff have been so friendly, welcoming and supportive. Most importantly, the children are just amazing and make me smile and laugh every day. I am very proud to work at Bosmere.
What do you like to do in your spare time: I am a serious shopaholic, you will usually find me in Primark! My favourite thing to do is spend time with my friends and family, most of the time eating good food. I also very much enjoy going to the gym for a workout and swim.
Quirky fact: I am training for a marathon!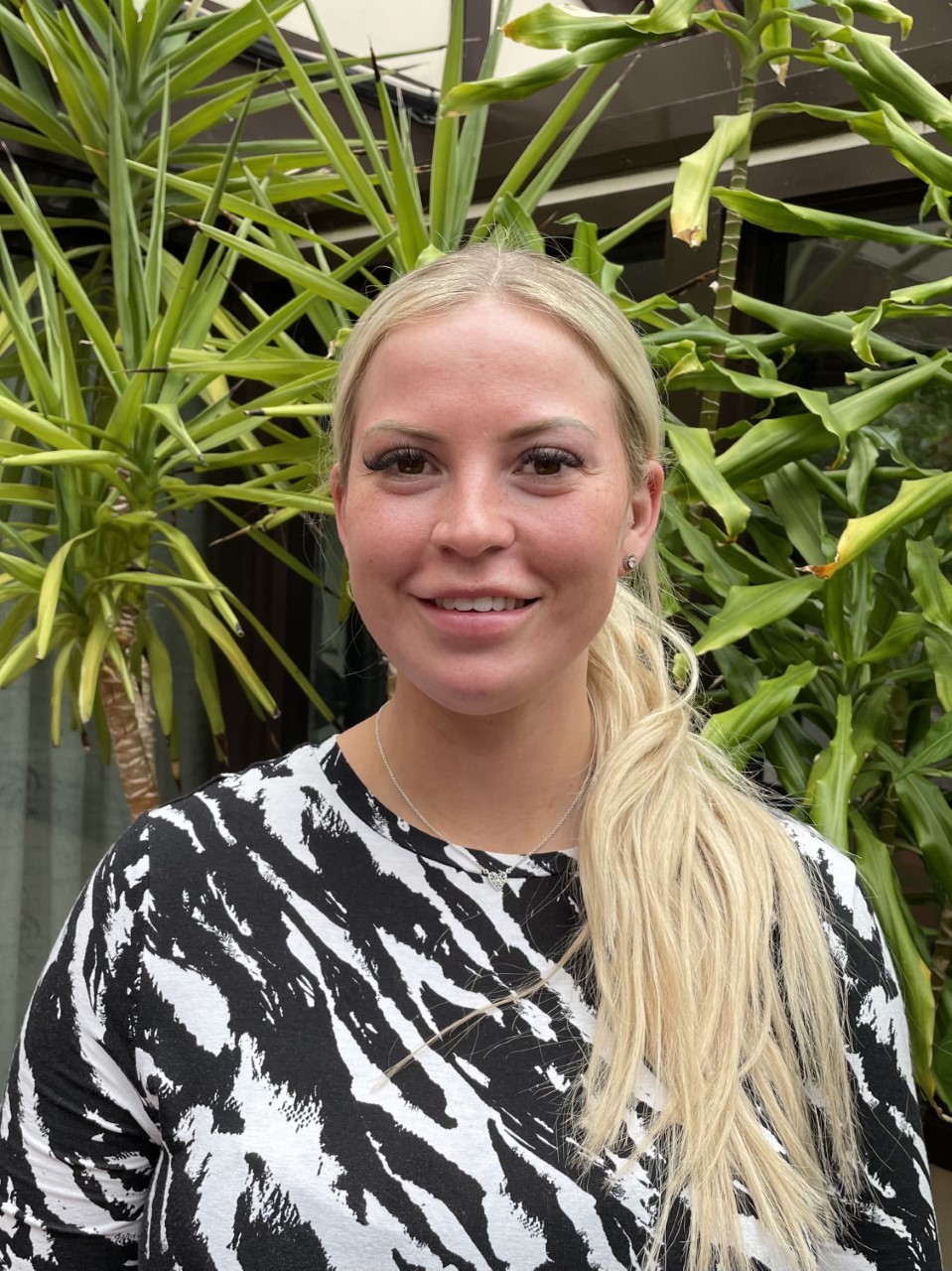 E-SAFETY TIP
For Parents - My Family's Digital Toolkit
Internet Matters have done it again, this time by creating a personalised online safety toolkit you can use at home. By answering a few simple questions, you can get age-specific advice, learn about popular apps, information on how to deal with any concerns, and also tools to support their interests and wellbeing. The toolkit can be found here
https://www.internetmatters.org/digital-family-toolkit/
For Young People - Blocking and Reporting
The Diana Award have put together a really useful little guide for blocking and reporting on some of the more popular platforms: Snapchat, Instagram, WhatsApp, TikTok and Facebook. This may be useful for you and your children who might just be starting on their social media journey. It's a free PDF download, which you can get here
WELLBEING TIP
Is trying to get your child to use cutlery a nightmare? You are not alone!
Almost one in four British primary school children cannot use a knife and fork, with many preferring to tuck into meals using only their hands. Almost three quarters (74 %) of children use only a fork to eat all their meals. (Known as scoopers or diggers.)
Many children struggle with standard cutlery. They are big and may be tricky to manipulate, but with practise, this can be overcome.
If your child is right-handed, the knife will go in the right hand. For the lefties, the knife goes in the left hand. Once you have the cutlery sorted, all your child needs to do are to follow these steps:
Get those index fingers pointing forward
Pointed index fingers go on top of the knife and fork, then your other fingers curl around the handle
Stab the food with the fork then keep the fork still
Saw backwards and forwards with the knife but make sure you keep the fork holding the food steady
A fun way to practise cutlery skills is with Play-Doh. Get your child to roll out some 'sausages'. This can be a much less intimidating way to practise than with real food at dinnertime. You will no longer have to watch your child stabbing that potato and eating it whole!
* * *
Bosmere is always here to help and to be advocates for supporting with mental health needs. There are many ways to find help for mental health difficulties and this has now become even easier. Click here to download the 'Call 111 - Mental Health Triage' leaflet from Your Child's Health & Wellbeing section of our website.
DATES FOR YOUR DIARY

NOVEMBER

11th

Whole School Remembrance Assembly

Individual and Family photographs

4S Parent Consultations

15th

Odd Socks Day

17th

Whole School Flu Vaccinations

Interim Progress Reports sent home

18th

Parent Evening Consultation

19th

Wear Something Spotty for Children in Need

w/c 22nd

Parent Day Consultations

25th

6R Class Assembly

DECEMBER

1st

Y3 Drop Stop and Read (A reading workshop for parents) 9am

2nd

6W Class Assembly

3rd

HEARTS morning

Remembrance Tree

Clubs finish

7th

Carol Service at St Faith's : Lower School 1pm / Upper School 2pm (Parents invited)

9th

Year 3 performance to parents

10th

Choir singing at Waitrose (10.45am tbc)

14th

Year 3 Christmas Party

15th

Year 4 Nativity to parents

Year 4 Christmas Party

16th

Christmas Dinner

Year 6 Christmas Party

17th

Year 5 Christmas Party

Last day of term – Non uniform / Christmas jumper day (£1 donation)

JANUARY

4th

INSET Day

5th

Spring Term begins

w/c 17th

Spring Clubs start

20th

4R Class Assembly

28th

Coffee Morning

FEBRUARY

3rd

3A Class Assembly

4th

HEARTS Morning

10th

Yr 6 Jnr Conservancy Workshop (class tbc)

15th

Yr 6 Jnr Conservancy Workshop (class tbc)

16th

Yr 6 Jnr Conservancy Workshop (class tbc)

17th

3B Class Assembly

21st - 25th

Half Term

28th

INSET Day

MARCH

2nd

Yr 5 trip to Chichester Theatre

w/c 7th

Book Week

8th

Author virtual visit to school

10th

Author virtual visit to school

16th

Yr 5 Drop, Stop and Read (time tbc)

17th

3D Class Assembly

Parent Consultation Evening

w/c 21st

Parent Consultations

24th

5LB Class Assembly

25th

HEARTS Morning

APRIL

1st

Spring Clubs finish

6th

Spring Music Concert (times tbc)